Propane Delivery for Homes in Southern New Hampshire & Maine
Are you in need of reliable propane delivery at a great price from a trusted local provider? Estes Oil & Propane is the place for you. We've been serving the Southern Maine and Seacoast New Hampshire areas with Bioheat® fuel and propane delivery for years, and we're just getting started! Read on to learn more about our propane delivery options, or contact our team to request a propane delivery today. We look forward to providing your home with reliable, safe, highly efficient heat and power at a price that won't break your budget.
ORDER PROPANE NOW
Automatic Propane Delivery
Automatic propane delivery is a simple alternative to regular monitoring of your propane storage tank. Contact the Estes team today to request free enrollment into our automatic propane gas delivery program. You'll always have the right amount of fuel, and we won't deliver more than necessary.
SIGN UP
Customer-Owned Tanks
If you have documentation that shows you own your propane tank, give us a call to learn about discounted pricing! We also perform tank tests to be sure everything's running safely so you can feel good about your Southern Maine or Seacoast New Hampshire property. Get in touch with the Estes team today.
CONTACT US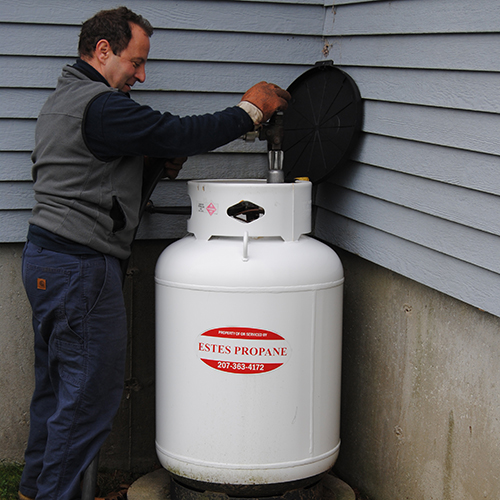 Benefits of Heating with Propane Gas
Have you heard about the many benefits of using propane in your Southern ME or NH home? It's a versatile, safe, and clean fuel that you can feel great about. Click here to see many of the appliances and equipment that propane can fuel, or check out this list of benefits:
Clean, eco-friendly, low emissions
Safe and affordable for your family
Powers heating equipment, cooking appliances, and more
Power for additional space heating and fireplaces
ORDER PROPANE NOW
---
Tank Rental Fee
We implement a small yearly tank rental fee to sustain your propane storage container. If you are a fuel oil customer or purchase more than 100 gallons of propane annually, we will automatically waive this fee.