Furnace & Boiler Equipment Installation in Greater York, ME
Estes has qualified technicians that can install any kind of heating system equipment. Whether you are looking to upgrade your heating oil system or make a switch to propane, we can help get you the products and services that you are looking for. We have friendly and informative salesmen that can help guide you to find properly sized equipment that suits your Southern New Hampshire or Maine property.
Estes also offers free estimates. If you would like one of our qualified technicians to visit your home for an estimate, contact us!
REQUEST A QUOTE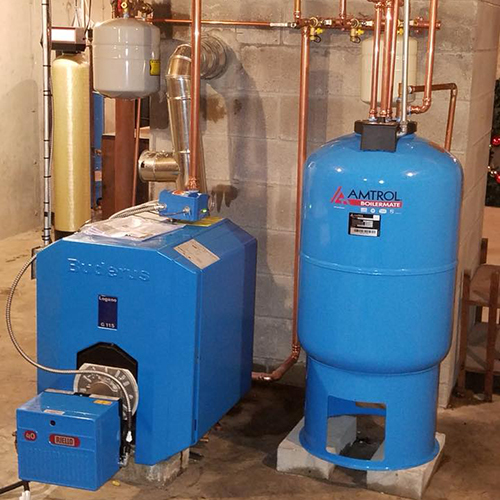 ---
High-Efficiency Heating Equipment We Quote and Install
Furnaces
Forced hot air heaters, or furnaces, are a popular home heating choice for homes with existing ductwork. View our furnace installation page to see the high-efficiency models you could use to save on fuel and repair bills each year.
FURNACE INSTALLATIONS
Boilers
Forced hot water, or boiler, heating systems provide radiant heat to New Hampshire and Maine homes. We install high-efficiency models that will give your family the ultimate warmth and comfort all year.
BOILER INSTALLATIONS
Oil Tanks
Heating oil tanks can last a long time if properly maintained, but they should be replaced long before they spout a leak in your home. Estes Oil & Propane offers top-quality oil tank installation and replacement.
OIL TANK INSTALLATIONS
Water Heaters
Your water heater is one of the few home comfort appliances you rely on every day of the year. Visit our water heater installation page to learn more about the high-efficiency models we can provide for you.
WATER HEATER INSTALLATIONS
---
Assistance Programs for Stress-Free Equipment Installation
Estes offers loan information to help make the installation or upgrade in your home a little less burdensome. Maine offers all kinds of different options to help finance this big decision, making your life a little easier. The EnergyPlus Loan and the Efficiency Maine Loan can be used to help your equipment installation become a bit more affordable. In addition, Maine offers rebates on particular energy-efficient models if you are ready to upgrade or switch to a new system. If you would like to learn more about rebates available in Maine, click here.